Page 3
A more in depth look at the AI solution
Airborne Internet is a Basic Capability
The term "airborne internet" (AI) conjures up thoughts of aircraft pilots surfing the Internet checking their stock portfolios. The concept, however, is more specific and is not intended for such recreational uses of the Internet. Rather, the AI concept embodies simple network theory and application. It merely applies them to a mobile, non-stationary network user: the aircraft. Similarly, the concept could be applied to any transportation system that has a similar ground infrastructure and tracking requirement.
The Airborne Internet architecture will leverage open standards and protocols for a client-server network system architecture that are being developed by the telecommunications industry for increased bandwidth for mobile applications. A demonstration of integrated services using a satellite-terrestrial hybrid communications architecture will benchmark the capability, efficiency, and safety of a digital airspace infrastructure. This infrastructure development will be the maturing of the Airborne Internet to enable the full SATS vision. Figure 1 below depicts the Airborne Internet conceptual operation.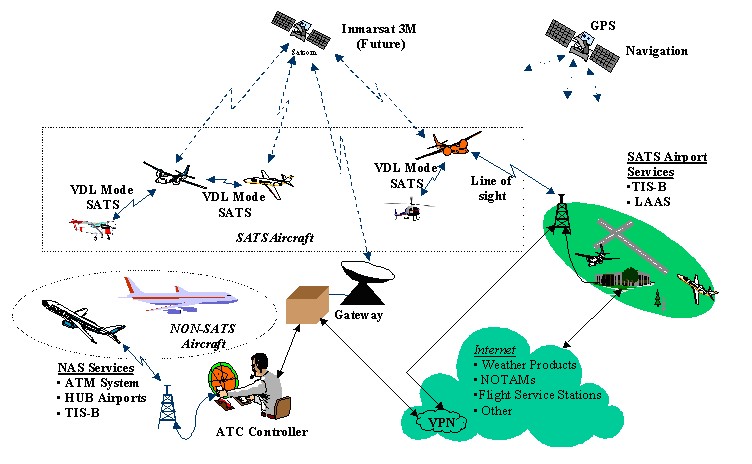 (Drawing courtesy if CNS Inc, Springfield VA.)
Figure 1: SATS Airborne Internet Conceptual Operation
The "VDL Mode SATS" radios are VHF Data Link radios that use a time sharing scheme (STDMA) that is based on a self-organizing technique. All radios use the same frequency. By self organizing, each user evaluates the network traffic and assigns itself available time slots. This radio system also uses an algorithm to deal with the situation in which all the time slots are nearly used up. It provides a way for two users to share the same time slot.
In the airborne internet architecture, each aircraft is a part of the peer-to-peer network. There is no requirement for a central "server". This approach is the same as computers networked together on a Local Area Network (LAN) in which each is using the same protocols and configured to communicate with each other. In peer-to-peer situations, there is no need to "log in" to a centralized server. In the centralized server approach, users must log in and be authenticated before they can use network resources. In a peer-to-peer network, all resources are available to each user of the network (based on the permissions assigned to the user and the resource). As an example, a commonly used peer-to-peer approach is used with "Instant Messaging" programs in which two users can open a text session between them. Other functionality can be added to that session, such as file transfer.
Airborne Internet Proof of Concept Test Bed:
Under the initial direction and contract tasking of NASA, an airborne internet proof of concept demonstration test bed has been constructed. The construction of this test bed was to prove and demonstrate the thesis that aircraft could communicate effectively and efficiently using the airborne internet operational architecture.
The first test bed represented five aircraft, a ground station and a controller station. Aircraft N382 and N384 have similar configurations. Aircraft N382 and N384 consists of a workstation running the Controller Pilot Data Link Communications (CPDLC) and peer-to-peer applications. Each aircraft's second workstation acts as the AI router as well as running the Automatic Dependent Surveillance - Broadcast (ADS-B), Flight Information Services - Broadcast (FIS-B) weather and e-mail applications. The AI router is connected to the VDL Mode SATS radio. The other three aircraft are emulated by a single workstation. This initial test bed was constructed at a contractor's office suite in Springfield, VA. There were no special building or laboratory requirements needed to build the test bed. Figure 2 shows a diagram of the test bed, its components, and the aircraft each component represents or is associated with. NEXT
Page 3
---
Copyright©2002 Ralph Yost, All Rights Reserved.